Plum Pear Wine!
For the richest and best
Is the wine of the West,
That grows by the Beautiful River,
Whose sweet perfume
Fills all the room
With a benison on the giver.

(excerpt, 'Ode to Catawba Wine,' by Longfellow)

Hi all,

Wanted to share the recipe of a Plum Pear wine we made last weekend. I'll post the recipe first, then pictures and so on. If I've missed anything (entirely possible, I've been painting and paint fumes are fuuuuun!), please post here. :)

Pear/Plum Wine
8 lbs bartlett pears (fresh from Cabrillo Farmer's Market)
5 lbs comice pears (picked from our pear tree)
8 lbs santa rosa plums (fress from Cabrillo Farmer's Market)
2 lbs minced raisins
15 lbs sugar
2 cups sweet grapefruit juice (yeast food)
brewers yeast
4 campden tablets
4 cans frozen red grape juice concentrate
Thanks to that beautiful Cuisinart, it was easy to chop up all the fruit and the raisins. That is a must-have tool for many occasions! :)
The fruit was cooked down with the sugar, and added to the big bucket with all four cans of concentrate, and stirred well.
I opted not to take a picture of it at that stage because it was really funky chunky looking! However am wishing I did now, just to record the process (but am thinking you can all get a mental picture of some liquidy composting fruit, not pretty.). ;)
After things cooled down, we skimmed off the chunks and pureed them down some more, and then things looked much better. Wow did it give off a lovely smell, though.
There it sat, and the next day the yeast food was prepared and added to the mixture, along with four campden tablets.
We were aiming for a rich, strong red with this one, and the color (so far) is really beautiful and deep red. I'm hoping that the red grape juice and the red plum skins hold their lovely color!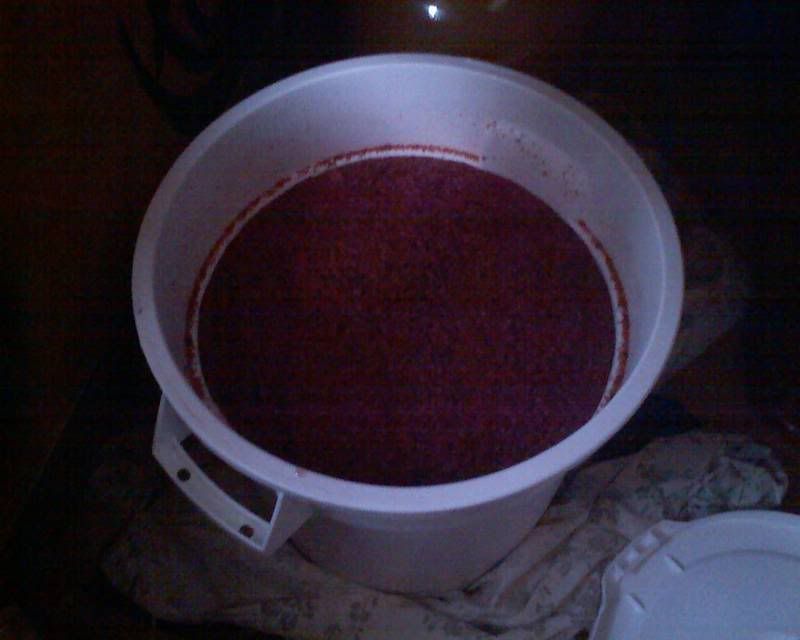 Here is the lovely crust, before stirring. The look reminds me of parfait (?) it's really foamy and fruity. :)
(Donkey in Shrek has come up a lot this weekend, and when I look at the crust on this wine,
I keep thinking of him saying "Everybody Loves Parfait." :D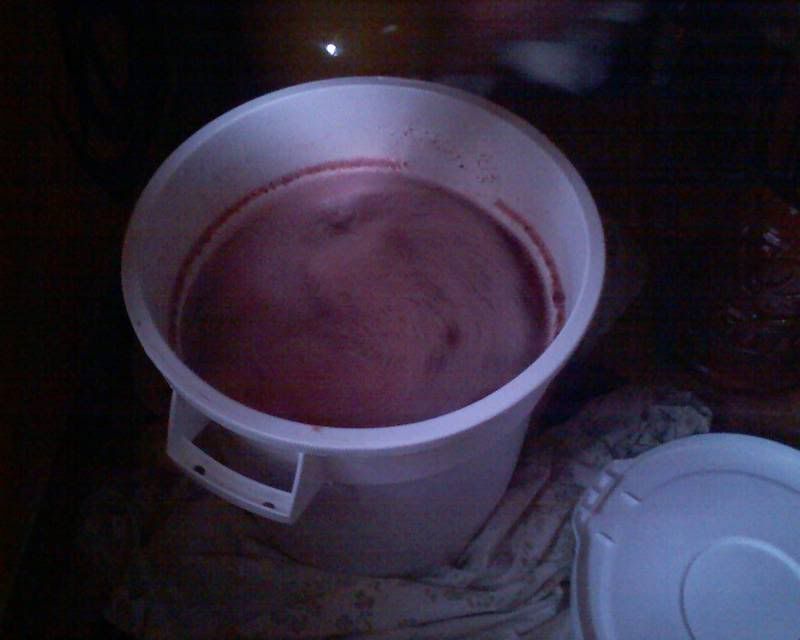 This is after a brisk stirring. It foams and hums! It's great, like you just poured out 4 bottles of soda at the same time -
like a foamy hum. :)
The taste is lovely. Bubbly and sweet, and I swear it tastes very alcoholic, but no readings have been taken (yet).
Love, me